A lot of people see celebrities as immortals. Supreme beings who have luckily found the fountain of youth, not aging or changing their bodies at all, but no, they're not like that. Just like the average person, your favorite stars are humans, too.
They feel and experience the same things an ordinary citizen does. Celebrities can also get fine lines when they age, and gain weight when they eat. They're not gods at all, anyway, but they don't let it get the best of them.
There are a couple of things they do to avoid these, though not the aging part. There're several procedures that they can opt for to look forever young. With a swipe of a credit card, they can get access to the best products to remove those wrinkles and the like.
Body-wise, there're also a lot of ways to get rid of those pesky fats. Nowadays, more and more celebrities share their successful weight loss journey, showing their surprising body transformations that put everyone in awe.
Want to know who they are? Check this celebrity weight loss list that will inspire you to work out and shed off the pounds.
JACK BLACK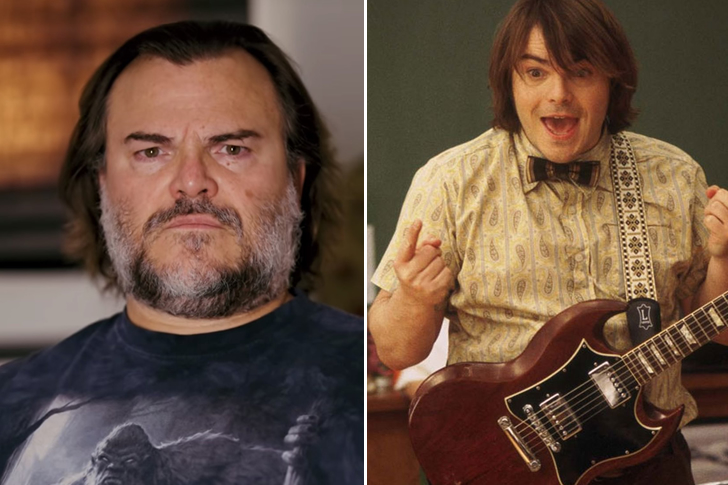 You do not have to be ripped to be considered healthy, but Jack Black is perhaps going in that direction. The School Of Rock star posted on YouTube that he would be working on losing some weight. He realized that he was not getting any younger, and with 2020 coming (when he made the post), the actor knew he needed to get in shape. He even planned to get ripped.
The comedian certainly meant business, and so he hired a famous celebrity trainer, Mark Wildman, who helped him on the journey of losing 25 pounds. He started at 240 pounds, a bit too much for his 5'7" physique. He was inspired by Chris Hemsworth, and he even joked that he would be coming after the actor. Well, to a degree, it is best that we have people we emulate so that we can reach our goals. Being healthy is also a goal everyone should have to live a longer and fitter life.
Anne Hegerty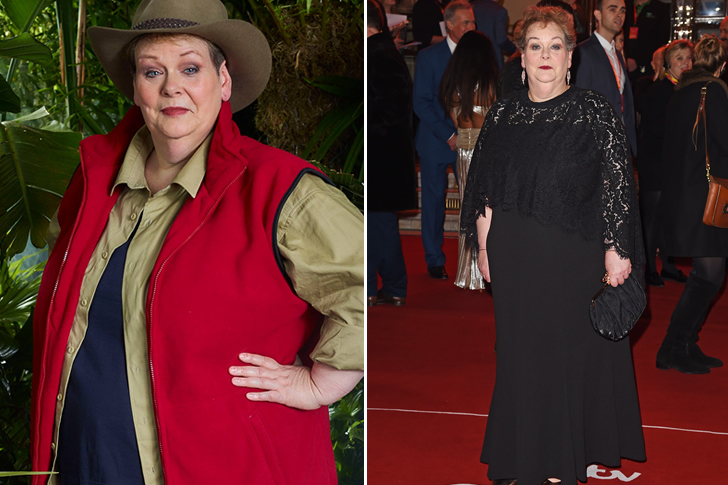 Hegerty has been a well-known figure for British quiz show fans. She has been one of the "chasers" on the hit game show The Chase. In addition, she has appeared in or hosted several game shows such as Mastermind, Britain's Brightest Family, and Fifteen to One. She has been noted for her impressive weight loss of around 42 lbs in recent years. Her weight loss results have pretty much astounded many.
According to Hegerty, a healthy diet plus lots of movement and exercise can be given credits due to her weight loss. In addition, she stated that she drinks lots of water to help prevent excessive eating. Her weight loss was even more apparent when she was in Australia for work. Overall, it seems that the quizmaster has really made a great investment in striving for a fit physique to be healthy.
Rebel Wilson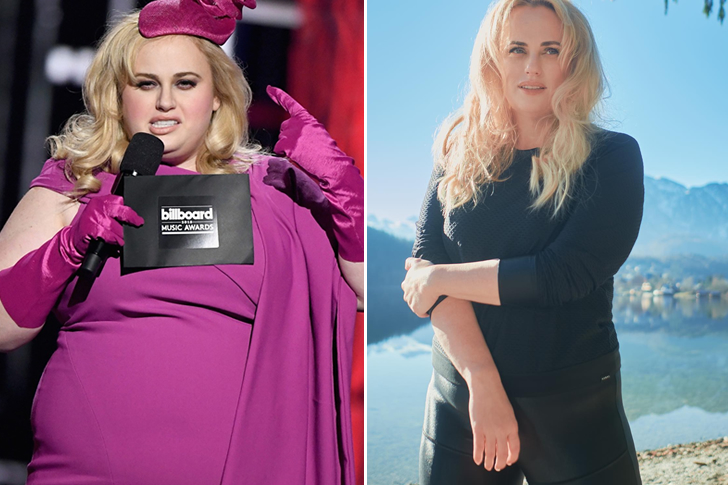 If there is one among other things actress Rebel Wilson has long dreamed of, it is to achieve a slim and fit physique. Fortunately, it seems she has managed to achieve the goal of slimming down to around 165 lbs. back in 2020. Wilson was noted for her large appearance, which proved debilitating to her health and put her insurance at risk.
So to make herself in tip-top shape, she followed a high-protein diet and did lots of walking. While she has been quite proud of her slim body, her weight loss journey was not without opposition. After all, Wilson became famous in part due to her size. So many of her peers and friends have said that her weight loss may lead to fewer opportunities. Yet, such concerns have been put to rest, as she has been livelier than ever.
Kevin James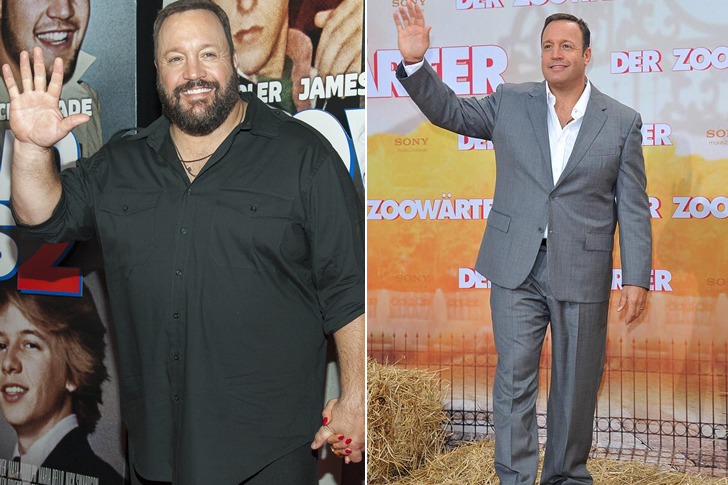 Known for his extensive credits in mainly comedy films, Kevin James has been quite a familiar face to many watching the silver screen. Of course, most are familiar with his much larger appearance, which he often employs in several of his comedic acts. He has invested in himself to slim down more recently because his weight was quite high.
At one point, James weighed at around 302 lbs., which was quite too much. This is especially apparent when he starred in Here Comes the Boom in 2012, which saw him playing an MMA fighter. To slim down, he had to take a lot of cues from the MMA through professional trainer Ryan Parsons. Through Parsons' guidance, James managed to lose about 80 lbs. over the course of a year. Today, even though he regained some of those pounds, he still manages to maintain his physique.
Abby Lee Miller
Abby Lee Miller was recognized for her divisive behavior on Dance Moms. Through her investment, the actress has shown that she can coach young girls into being big stars. Miller returned to the series after a lengthy absence — and her appearance has changed dramatically over the years.
Miller went from a size 24 to a size 16 in 2015 without resorting to a fad diet or a strenuous workout regimen. She didn't set out to lose weight; it happened because of a series of tragic events. Her weight-loss methods in 2015 were unorthodox, but she appreciates the positive response she received, especially from her Dance Moms' co-stars. But her weight loss journey did not stop there. Miller underwent gastric bypass surgery in 2017 to pursue her weight loss story. After being diagnosed with various illnesses over the years, she is still undergoing physical therapy to recover her strength.
Adam Richman
Adam Richman has made a degree out of exploring the world's most refined and intense tastes, as well as out of the world's most exclusive dining experiences. Richman has had some amazing culinary adventures, which he credits as what taught him how to get healthy.
Richman admitted that eating in front of the camera didn't seem like it counted as part of his caloric intake. However, he learned to discipline his body by fasting before and after eating contests, drinking plenty of water, and exercising to keep his metabolism going all day. Most people assumed that his weight loss began at the end of filming, but Richman claims his most notable gains happened long after the show already ended when he no longer felt he needed discipline. Richman has discovered valuable strategies for remaining happy and safe on his own, in addition to learning about the value of calories for a balanced diet.
Al Roker
Al Roker is the epitome of fitness and health investments. Following his gastric bypass operation in 2002, he has shed over a hundred pounds, but it hasn't been a stroll in the park. Roker admitted that losing weight, keeping it off, and sometimes gaining and losing weight was a constant challenge.
Roker has kept his weight in check by focusing on his strength and keeping track of how much he eats. He's had recent success with the Keto diet, having dropped a ton of weight following it. Using a combination of meal plans and exercise, he was able to "put on the brakes" and lost weight. He went on a 28-day detox, abstaining from caffeine, alcohol, sugar, dairy, and gluten. He has permanently changed his diet, consuming only whole, unprocessed foods high in protein and low in carbs. He also started a "slow method" exercise routine, consisting of three 30-minute workout sessions each week.
Alec Baldwin
It's not unusual to feel overjoyed after losing weight and wanting to flaunt the results of your efforts. And that's just what Alec Baldwin did; in addition to his comeback in Saturday Night Live, the actor embraced his body transformation by showing off his new and improved body to the crowd.
Baldwin wanted to change his lifestyle after learning of his pre-diabetic diagnosis. The actor revealed that he gave up sugar and lost 30 pounds in just four months. However, it wasn't the only factor that contributed to Baldwin's weight loss investments. He also revealed that he does Pilates and spin classes. Alec and his wife, Hilaria, began eating nutritious meals and exercising every day, which helped him lose weight and bring his body chemistry and blood sugar back to normal. Luckily, he has his yoga teacher wife to thank for his new fit physique.
Angie Stone
Angie Stone won the title of new soul queen after years of hard work and fruitful soul-searching. Her solo career began with two gold-certified albums, Black Diamond and Mahogany Soul. She's also had a lot of success in the R&B charts, with four top ten albums and ten top ten singles. Overall, Angie has marketed over ten million records globally, with over 9.4 million in the United States.
Given her degree of fame and notoriety, she drew media attention and increased her stress. Stone has often spoken about her weight, which is higher than that of a traditional R&B diva. Angie knew she needed to make changes in her life by joining VH1's Celebrity Fit Club and embarking on a journey of self-motivation. She's lost more than 40 pounds and has recently begun a vegan diet. With all her success, she's grateful to be alive and to be making music till today.
Aretha Franklin
Aretha Franklin is a legend in the world of soul music. Her career soared in the 60s, and she won her degree as the Queen of Soul after she released a series of iconic songs like Respect and I Say a Little Prayer. Franklin was never able to rest on her laurels. She spent the next three decades performing and recording regularly until her demise in 2018.
Aretha struggled with her weight her whole life, and in 2010 she underwent surgery for an unspecified ailment. Franklin lost 85 pounds in the months after the operation, leading others to believe she had undergone weight loss surgery. Franklin did claim, however, that the unnamed process was the cause of her weight loss. She also changed her diet after and avoided sugar and fried food. She also incorporated exercise into her diet, in addition to calorie counting.
Austin "Chumlee" Russell
Some names are so closely associated with reality TV shows, that one can't think of one without thinking of the other. And when you think of Pawn Stars, you'll probably be thinking of Chumlee, one of the show's long-running stars. Many viewers were astonished when he reappeared for one season having lost a significant amount of weight, appearing much healthier than he had been since his debut on the show.
Chumlee always struggled to lose weight, and even though he was able to on occasion, he had trouble keeping it off, which prompted the Pawn Stars' star to take it to another degree. While everyone was making new year's resolutions in late 2018, Chumlee was eager to greet the new year with vigor. He underwent lap-band surgery, which helped the reality TV star lose ten pounds. As we all know, one needs to practice healthy eating habits and follow through with an exercise regimen after surgery to keep the weight off. He still has a significant amount of weight to lose; however, compared to his previous weight history, Chumlee seems to be well on his way to reaching his weight goal.
Carrie Fisher
Carrie Fisher is best recognized for her role as Princess Leia in the 1977 movie Star Wars, one of the most successful films at the box office. Fisher endeared herself to generations of adoring fans with her Danish pastry hairdo and white robe in the Star Wars sequels. However, the actress disclosed in 2014 that the part required her to lose weight.
Carrie joked that "they hired me minus 35 pounds" when she was asked to reprise her iconic role as Princess Leia in Star Wars: The Force Awakens. Carrie was under pressure to lose 35 pounds for the role, but she did so correctly. However, Carrie is no stranger to weight loss, and those 35lbs were nothing compared to what she lost before. True enough, Carrie was able to amass fame and investments over the years, making her one of Hollywood's legacies.
Chaka Khan
Chaka Khan earned a huge degree of fame after she released several significant hits during the peak of her career. Not only that, she's a Grammy winner ten times over. However, like the rest of the world, Khan began to struggle with her weight. In 2011, the singer was diagnosed with type 2 diabetes, and her blood pressure also became dangerously elevated. That's when she knew she needed to drop the pounds.
She didn't eat anything solid for four months, and her meals consisted of a protein and vegetable smoothie. She lost weight quickly; however, no one can live on a liquid diet permanently. Her weight returned to normal after she finished the diet. Following this weight-loss attempt, Khan chose to turn to vegan diets. She started eating nutritious plant-based meals, which resulted in a painless 60-pound weight loss in less than a year. Her blood pressure and sugar levels have returned to normal after she dropped her weight.
Chaz Bono
Chaz Bono grew up under his famous parents' wings but wanted to outgrow their shadow and make a name for himself. He focused on music, LGBTQ+ politics, and reality TV roles before returning to acting. He made headlines because of his gender transformation and surprised everyone with his new appearance. Chaz was able to flaunt his trim new body after having lost a ton of weight.
Bono struggled with his weight for years. Following his gender transformation, Bono weighed 250 pounds. Finally, at ease in his skin, he publicly promised to lose 50 pounds in November 2012, and by the following year, he had lost an impressive 75 pounds. How did Chaz pull it off? Besides adopting healthy eating habits, the actor stays engaged by doing the ballroom moves he learned on Dancing with the Stars. He's lost 85 pounds to date, and he says that maintaining a good body image as a result of his gender change aided him in his efforts.
Chris Pratt
Chris Pratt has had pretty impressive career investments that put him at the top of the box office. The actor is well-known for his chiseled physique, but he reportedly struggled with his weight and his poor health in his twenties.
Chris had been honest about his weight problems, discussing the pressures he experienced to maintain a slim figure and land major Hollywood roles. He lost 80 pounds for his most significant role yet, which was as Peter Quill in Guardians Of The Galaxy in 2014 and has kept it off since. Chris completed P90X, as well as did a lot of biking, swimming, and boxing. He completed a triathlon as well. In addition to working out, he eats a low-carb, Paleo-style diet and drinks plenty of water every day. It took a few years and many ups and downs, but the star is now 230 pounds and trim. Despite his yo-yo dieting difficulties, he seems to have a generally positive outlook.
Christian Bale
Christian Bale is, to some degree, known for doing whatever it takes to play a role perfectly. He's a man who can play any part and portray anybody, whether it's Bruce Wayne or Patrick Bateman. He's proven over the years that no one can adapt to a movie role the way that he can.
Bale's ability to transform into a near-unrecognizable version of himself has already become the stuff of Hollywood legend — indeed he's gone from fat to skinny numerous times over the years. His appearance in the 2005 thriller, The Machinist, however, was the most surprising. Bale's almost distorted skeletal frame was one of his most unforgettable performances. His diet consisted of 200 calories a day. The man literally looked like he was dying in the movie. That's a lot of weight to shed for a movie role, so it's no surprise he's become an icon.
Christina Aguilera
When she returned to The Voice as a judge, Christina Aguilera unveiled her transformation. Are you curious as to know how she lost so much weight so quickly? Aguilera wanted to look the part in Burlesque after gaining weight from her pregnancy, so she enlisted a celebrity trainer's help and went on a strict diet. The singer successfully dropped the pounds but gained it back after giving birth to her second child.
Christina took a break from her role on The Voice in 2013 to focus on her physical and mental health. She signed up for The Fresh Diet's meal delivery service, which helped her consume 1600 calories per day. Christina also adopted a "rainbow diet" and incorporated yoga and workout into her lifestyle. Christina had ups and downs. However, she regained her health and was able to reclaim her pop icon degree.
Curtis "50 Cent" Jackson
50 cent rose to prominence for his record-breaking debut album and has since sold more than 30 million albums globally. He has built a successful television and film career outside music and even diversified his skills and investments.
While we often see him goofing around, he is a different man in Things Fall Apart. Losing 50 pounds was a complicated process, but for 50 Cent, it was all done for the role. The rapper usually weighs 214 pounds and is often seen shirtless and flexing his muscles. Despite this, Jackson weighed just 160 pounds after nine weeks on a liquid diet. The star spent three hours a day on the treadmill to lose weight. While he never wanted to be recognized for his success in losing weight to portray a cancer patient, he took solace in the fact that other actors had given their lives to their craft.
Dr. Dre
Dr. Dre is known as the "Godfather" of the American hip-hop scene. Dre's life story is full of achievements, and he has shaped the music industry's current perspective. Dre's success isn't just about personal investments. In reality, he was behind the launching of several rappers and hip hop artists like Snoop Dogg, Eminem, and 50 Cent. With a net worth of more than $500 million, he has become one of the wealthiest magnates in the hip hop industry.
The rapper received applause for more than his artistic achievements when he took the stage at the 2007 MTV Music Awards. People were probably surprised to see how much weight Dr. Dre had lost and how muscular he has become! Although the look of his arms was a little more than others might have liked, there's no denying that he looks fantastic.
Drew Carey
Drew Carey, the host of The Price Is Right, has opened up about his impressive weight loss after losing nearly 100 pounds. Carey said that being overweight was a burden and that he needed to make drastic changes in order to remain fit and safe. Carey lost 80 pounds by following a strict diet that included fully eliminating carbs and going to the gym on a regular basis. Despite having Type-2 diabetes and heart problems, the comedian was able to do this.
The host became a content, stable, and strong man as a result of the diet. He not only lost weight, but he is also no longer diabetic and no longer pants when running. Drew managed to lose a certain degree of weight in 2011, but the results were less than stellar. After suffering chest pains while working on The Drew Carey Show, one of the comedian's arteries was discovered to be clogged. After an operation, he tried to control his appetite for a while. However, by the time he became the host of The Price Is Right, he had gained weight. Drew Carey is someone we can't help but respect. He now eats properly and is no longer taking his type-2 diabetes drug.
Gabourey Sidibe
Actress Gabourey Sidibe is continually losing weight after having had laparoscopic bariatric surgery, and she claims she feels better than she has in a long time.
On the cover of her latest book, This Is Just My Face: Try Not to Stare, the Empire star flaunted her dramatic weight loss. Sidibe had the surgery in secret last May after being diagnosed with Type 2 diabetes along with her older brother. Sidibe has long been stubborn about her weight, maintaining that she's fine the way she is, but she says that years of struggling to lose a degree of weight and health problems starting to take root encouraged her to make a drastic effort. Sidibe has worked with a nutritionist and a trainer since then and has improved her dietary habits to regain control of her health. Her stomach was cut in half, limiting her appetite and ability to eat, which helped in this process.
Mo'Nique
Mo'Nique is likely to be familiar to someone who grew up in the 1990s.
She's popular for not just the inventive way she spells her name (her real name is Monique) but also for her appearance on The Parkers and her hilarious stand-up comedy. Though Mo'Nique has had a successful career over the last two decades (she has a Grammy and an Oscar, after all), she has struggled with one issue (as do many women): her weight.
However, the actress and comedian seem to have regained control of her fitness. The 51-year-old recently revealed on Instagram that she lost weight for the first time since she was 17 years old. The actress credits her weight loss to two factors: a raw food diet and dancing with her personal trainer, Dwight Holt Jr. Over the last few months, Mo'Nique has been posting videos of her workouts with Holt, promising to share her "weight loss and getting well" journey with her followers. We adore a celebrity who isn't afraid to be vulnerable!
Graham Elliot
Graham Eliot, a US celebrity chef who has appeared on Iron Chef, Masterchef, Top Chef Masters, and opened his own eponymous French restaurant, has earned multiple awards and critical acclaim for his cooking. He used to weigh a whopping 400 pounds, but with this simple procedure, he lost 150 pounds and held it off.
Despite a prosperous and lucrative career, the TV chef's 400-pound frame put him at risk of severe health problems. Luckily, he's got health insurance for sure. Graham's diet was reduced to lean protein, fruits, and vegetables after years of gorging on his calorie-dense creations. He is considered to have taken out virtually all bread, pastries, sugary fizzy drinks, and beer from his current diet, which includes dinners of chicken and salmon with salad or vegetables. The former 400-pound chef now eats fruit and cottage cheese or apple slices with peanut butter to satisfy his sugar cravings and keep his weight loss on track. Graham Elliot's story and new lifestyle will serve as an inspiration to many Britons who are trying to lose weight and reduce belly fat.
Janet Jackson
Janet Jackson is a new mother and a fitness inspiration after she lost weight without doing cardio. Janet Jackson is fitter than ever and working out consistently less than a year after giving birth to her first child. The world-famous singer shed 70 pounds and gives credit to her personal trainer, Paulette Sybliss. Jackson's dramatic weight loss can be seen in her Instagram images from before and recently, inspiring new moms to get involved as well.
The actress not only achieved her initial target of losing weight, but she also developed lean muscle, resulting in a solid physique. Aside from this physical growth, Jackson also improved his health. The star's workout did not include traditional cardio and instead concentrated on weights. Using weights, according to Jackson's trainer, targets muscles and burns fat right after the workout. The artist sees herself in the same light as the audience does, with flaws but inner power and elegance.
Jennifer Hudson
Jennifer Hudson rose to fame thanks to her powerful vocals, which propelled her from American Idol in 2004 to coveted positions in film, theater, and television, including as a judge on The Voice. The singer lost an astounding 80 pounds during her weight loss journey, dropping from a size 16 to a size 6.
Though statistics show that most people who lose a large degree of weight gain it back, Hudson has maintained her slim figure during this period. Hudson looks almost the same—maybe even better—than she did almost a decade ago when she toned up her body in 2010. Hudson joined Weight Watchers after giving birth to her son David in 2009 in order to set a good example for her son. That's when she discovered the weight-loss and maintenance techniques she still employs today. Her transition to truly healthy behaviors, however, was not easy at first. Jennifer and several of her family members now insist they look and feel better as a result of losing weight. Jennifer's exceptional ability, however, has remained constant throughout her life, regardless of her size.
Jerry Ferrara
You could understand Jerry Ferrara's sudden need for a new moniker. On HBO's hit series Entourage, the 41-year-old actor has faithfully played Turtle, the heaviest of Vinny Chase's three best friends, for more than 7 years. Ferrara recently made investments in a balanced diet and daily exercise regimen in-between seasons, shedding 55 pounds from his previously stout physique.
It is a well-known fact that dietary changes are important for beginners to lose weight. Similarly, Jerry initially chose the same route. He also hired the assistance of a nutritionist who happened to be the wife of one of his friends. She did recommend yo-yo dieting, which slowed his metabolism at first but didn't have much of an effect. The 41-year-old is inspiring for many reasons throughout his acting career, but one of the most important lessons you can learn from him is how he stopped smoking to lose weight. Jerry started working out and eating a strict diet to get healthier, and after losing 40 pounds in ten months, he realized that it helped him in the long run, including in his professional career.
Jill Scott
Jill Scott's recent and notable weight loss proves that easy healthy living is the secret to rapid weight loss, even for celebrities. It's all too tempting to blame a celebrity's rapid degree of weight loss on personal trainers, surgery, or costly gimmicks that the average person cannot afford. On the opposite, Jill Scott's sixty-three-pound weight loss can be traced to two years of leading a healthy lifestyle.
Jill has lost 63 pounds since she started her weight-loss journey, and she continues to transform her body through exercise and proper nutrition. She works out for 60 minutes three days a week, in addition to strength training and boxing. A diet is one of the most effective ways to lose weight. A diet will not only help you lose weight, but it will also make you healthier. She revealed her weight-loss secrets by stating that she tried a variety of strategies, including juicing, controlling her sugar consumption, and varying the types of foods she consumes, such as incorporating more vegetables and eliminating meat three days a week.
John Goodman
Weight loss, according to John Goodman, is due to investments in a full lifestyle adjustment rather than surgery. The veteran actor has had a long and illustrious career in which he has always continued to be a force to be reckoned with on film. John Goodman's influence has always been felt by viewers, regardless of his physical appearance or weight, from cute comic characters to absolute badasses to a general scene-stealing mammoth of a man.
Throughout most of his career, the St. Louis native has struggled with yo-yo dieting, which was worsened by his alcohol addiction. In 2018, John revealed that "size management" was the key to his then-100-pound weight loss, which he was able to maintain. He did confess, however, that the first thing he omitted from his diet was alcohol. He was able to hold the weight off permanently by hiring a personal trainer and working out six days a week.
Jonah Hill
Jonah Hill rose to prominence as a supporting actor in films such as Knocked Up and The 40-Year-Old Virgin, where his stock characters relied on his weight as well as his comic delivery to get by. Hill rose to fame after his first starring role in Super Bad, a film that made fun of his weight and made it the punchline for a few jokes (both self-imposed and otherwise).
When he started to audition for more dramatic roles, the actor made it a point to lose a degree of weight. Hill, like most dieters, struggled with weight fluctuation at first — he lost weight for 21 Jump Street and then gained it back for War Dogs — but eventually got it right. It seems that fans saw a more motivated and fit Hill by the summer of 2017. Hill disclosed that a nutritionist and Japanese food worked for him, telling outlets, "I noticed that Japanese food was really beneficial to me." He reportedly increased the amount of sushi in his diet. Sushi is a low-calorie food with plenty of omega-3 fatty acids that lead to a balanced metabolism (assuming you don't order the fried, sauced rolls).
Jordin Sparks
Jordin Sparks had always been the chunky girl who enjoyed food and who was confident in her plus-size figure. However, she struggled with her health in 2010, and this prompted her to adopt healthy habits, and now, after losing 50 pounds, the singer-actress is flaunting her new figure on red carpets and on the covers of Redbook and Shape magazines.
Sparks began by committing to drinking a gallon of water during the day. She has protein shakes for breakfast, specifically Herbalife's Vanilla Alternative protein shake. Although these are already filling, she follows it up with a 1/4 cup of mixed nuts as a snack to keep herself full. Breakfast for her is straightforward enough, but things start to get interesting for Sparks when lunchtime arrives. She actually takes two lunches a day to stave off hunger. The meals are, of course, a little degree. Sparks' total caloric consumption for the day is 1,780 calories. And it's thanks to such a well-balanced meal that the singer looks so good.
Kelly Osbourne
Kelly Osbourne's incredible 85-pound weight loss piqued our interest, so we dove into the specifics of how she did it, including the foods she consumed, the exercises she did, and everything else you need to know to achieve your own weight loss success.
Osbourne has now discovered a lifestyle that works for her after years of struggling with her weight, which includes a plant-based diet and intermittent fasting. She starts her day with a cup of coffee and a glass of green juice, which is also a perfect way to increase immunity while losing weight. Osbourne claims that she only drinks juices before dinnertime, after which she eats a nutritious meal. Intermittent fasting is when you go without food for 14 to 16 hours and then consume nutritious foods during the "on hours," causing the body to burn fat for energy and lose a degree of weight.
Kevin Liles
You've probably heard Kevin Liles' music before, even though he isn't a household name. He wrote the song "Girl You Know It's Real," which became a smash and catapulted Milli Vanilli to worldwide popularity to his credit. In 1999, he was appointed president of Def Jam Records, and later became executive vice president of Warner Music Group. He's finally in the spotlight for his remarkable weight loss transformation after a career spanning more than three decades!
Kevin Liles, a music executive, underwent gastric bypass surgery in order to lose the weight he wanted. Although it completed the task, it was a strenuous method of accomplishing it. When he made the decision, his loved ones were understandably worried. What matters is that he seems to be very happy and safe today. It seems that he was successful in bringing about the change he desired.
Kirstie Alley
Kirstie Alley has been a comedic actress since the 1980s when she first appeared on "Cheers." She has been very vocal about her weight loss journey over the years. She revealed in 2004 that she had lost 75 pounds after partnering with Jenny Craig. Alley maintained a degree of weight loss for three years, but she finally regained it. However, after appearing on Dancing with the Stars in 2011, she lost 100 pounds. She also claims that she does not buy unhealthy items in order to avoid temptation.
Kirstie Alley, a 69-year-old actress, and renowned model, continues to wow fans with her ripped body and youthful glow. While most women struggle with weight gain as they age, Alley has defied the odds and has stayed the same weight for the past three years. She admitted that the key to her weight loss was substituting fresh fruits and vegetables in her meals and practicing portion control.
Lauren Alaina
Apparently, Dancing with the Stars is an excellent weight-loss program. Lauren Alaina has always looked amazing — note, the number on the scale doesn't matter — but all that walking resulted in her losing a degree of weight!
Until joining the cast of Dancing with the Stars in 2019, Alaina had been working with nutritionists and trainers for years, but the intensive workouts encouraged her to take a more concentrated approach to her fitness routines. She lost 25 pounds in four months and substituted them with muscle, despite breaking a rib in the process. The songstress finished fourth in the famous dance show, but she reigns supreme in her singing career. According to her website, she has a new album, Getting Over Him, out this month, as well as a new gig as the host of a new Circle TV series, Jesus Calling: Stories of Faith. Alaina not only seems to be at the pinnacle of her professional career, but she also seems to be living her best life personally.
Mariah Carey
Mariah Carey has been around in the entertainment industry since the 1990s. She is considered a musical icon and one of the greatest singers of all time. Her contributions to show business have influenced a whole generation of fellow singers, including Ariana Grande, Christina Aguilera, Rihanna, Beyonce, and Lady Gaga, to name a few. However, outside of her music career, Carey is well known for her curvy figure and fashionable taste. Girls can't wait to grow up just like her, and boys can't help but dream of her. The songbird's career sees no end in sight, but changes in her life have affected her looks, literally. After giving birth to her twins, she struggled to gain back her former body.
In 2018, the world was surprised to see a slimmer Carey. She took it upon herself to pour investments into getting back her curves. She reportedly underwent gastric sleeve surgery to help with her weight loss journey.
Oprah Winfrey
World-renowned television personality Oprah Winfrey is considered by many to be an American icon. Called the Queen of All Media, she is best known for her eponymously titled talk show, which ran from 1986 to 2011 and made her the first female black billionaire in the world. Her signature style of motivational talk has inspired millions, and the Oprah Effect has helped countless people. Her company, the Oprah Winfrey Network, became her flagship company. Aside from all this, she has made numerous investments in various industries such as food, entertainment, and mass media.
Oprah is no stranger to losing weight. Even during her meteoric rise in the 1980s, she has been open about her struggles with weight loss. In 1988, she famously dragged a cart of fat weighing 67 pounds to showcase how much weight she had lost. Recently, she lost around 19kg in 2019 and it was done through a change in diet.
Paul Wall
Rapper Paul Slayton, known professionally as Paul Wall, has been a prominent figure in the Texas rap scene. He is best known for his album The Peoples Champ, which reached number one on the Billboard 200 during its release in 2005, and his collaboration with rapper Nelly in the song Grillz. He is often associated with independent Texan label Swishahouse Records, where he heavily collaborated with fellow Texan rapper, Chamillionaire. Together, they released several albums, with their most notable being Get Ya Mind Correct, released in 2002.
Over the years, Paul Wall has made significant progress with his weight loss strategy. He became serious about it in 2010. He had gastric sleeve surgery in 2010 and radically changed his diet to include more greens. His investment paid off, as he lost a staggering 100 pounds from 2010 to 2013. Today, he continues to live a healthy life and has been quite happy about it.
Perez Hilton
Beloved and hated by many in showbiz, celebrity columnist Perez Hilton has been a fixture and an icon of Hollywood culture. He became famous for his blog, created back in 2005, which featured gossip and rumors about famous stars. Celebrities are not shy with their opinions about Hilton, which served to further increase his popularity. His success led to the expansion of his brand and career into many areas such as radio, theater, and music.
As one who aspired to join Hollywood back in 2005, Hilton was always conscious about his body and health. Pictures of Hilton from 2006 show him as a chubby man. He started to slim down in 2008 and lost around 70 pounds by 2012. According to an interview with him in a fitness magazine, Hilton's exercise regimen involves yoga, cycling, and a very clean diet. Certainly, Hilton made investments in his well-being that paid off.
Queen Latifah
Queen Latifah made a huge mark in the entertainment industry. She became well-known for her third album, Black Reign, which won her a Grammy in 1995. She also had major accomplishments as an actress, with films and TV series to her credit such as Chicago, Taxi, Hairspray, and Bessie. In addition to a Grammy, she earned an Emmy, three Actors Screen Guild Awards, a Golden Globe, and an Oscar nomination.
Being an influential role model for women, Latifah has been quite open and conscious about her lifestyle, and she was criticized often for being overweight. She began to seriously tackle her weight in 2007. Shortly after becoming a spokesperson for wellness company Jenny Craig, she began to shed some pounds. By 2010, she had lost more than 20 pounds. She has said in past interviews that she focused more on exercise than diets.
Randy Jackson
Musician and TV personality Randy Jackson has been a fixture in American TV. He is best known as the longest-serving judge on American Idol. He worked as a judge in the show since its premiere and remained until its 13th season. Outside of American Idol, he is heavily associated with the band Journey, and was the band's bassist in May 2020. He is also a record producer who worked for labels such as Columbia Records and MCA Records.
Jackson has been quite conscious about his weight and health since the early 2000s. He said in 2001 that his weight loss journey was a struggle. He began to tackle the issue by getting gastric bypass surgery in 2003. Since then, he had lost an astounding 114 pounds, which greatly improved his well-being. A highly risky investment at the time, Jackson looks better than ever before.
Raven-Symoné
Raven-Symoné Pearman gained prominence early in life as a child star. As a child, she became one of the best child stars of all time, with film credits that include The Cosby Show, That's So Raven, and the Dr. Doolittle series. As an adult, she ventured into music and TV hosting while still doing acting roles. She became a co-host of the talk show The View from 2015 to 2016. Her music albums were quite successful, and her eponymously titled album entered the Billboard 200 in 2008.
Being a former child actress, Raven-Symoné was always conscious about her body. She started to lose considerable weight in 2008 through diet and exercise. The workouts and diet paid off, as she lost more than 60 pounds by 2011. While she has since gained some weight, she still maintains her regimen and diet.
Ricki Lake
A lot of people might be familiar with actress Ricki Lake for playing the role of Tracy Turnblad in the 1988 film, Hairspray. At age 19, her performance caught a lot of attention and led to her big break. Five years later, she became the youngest person at the time to have a talk show. It aired from 1993 to 2004 and became popular in many countries, particularly in the United Kingdom and Australia. She hosted another talk show from 2012 to 2013, which won a Daytime Emmy.
Lake has come a long way from her Hairspray years. In her debut, she weighed around 200 pounds and at her peak, she weighed a staggering 260 pounds. Since then, she managed to slim down considerably, with her weight in 2013 having gone down to 130 pounds — which was half her peak weight. She did this by intermittent fasting and doing exercise. Lake's risky investment in herself had certainly paid off.
Ricky Gervais
Comedian Ricky Gervais is well-known for his satirical and dark humor. After his stint as a pop star, he became known for being a member of the comedy series The 11 O'Clock Show. He became globally known for starring, co-producing, and co-writing the sitcom The Office. The success of the show spawned a U.S. version, where he was an executive producer. Aside from that, he also became known for his stand-up comedy, which employed highly satirical and dark humor while talking about current events and social problems. Gervais is also a supporter of LGBT rights and made an investment in Humanists UK, a humanist organization.
Gervais made big efforts towards slimming down, owing to his aging. He and his partner, Jane Fallon, were quite open about their weight loss experience. In 2010, the couple lost weight; Gervais lost 20 pounds while Fallon lost 18. Gervais attributed this loss to exercise and a healthy diet.
Ronnie Ortiz
Ronnie Ortiz made a name for himself in television. After working with his father in real estate, he became widely known as one of the main cast in the hit reality TV show Jersey Shore. His work on the show lasted for three years, from 2009 to 2012. Owing to his Jersey Shore fame, he subsequently had modest success through cameo appearances and minor performances in movies and TV series such as The Three Stooges, Famously Single, and Celebrity Fear Factor.
Ortiz was always conscious about his health and body. He regularly goes to the gym to work out but has been practicing unhealthy eating. In recent years, he incorporated healthy eating into his regimen, and the results show that he made significant improvements. His posts on Instagram, showing his six-pack, is proof that his work over the years paid off.
Rosie O'Donnell
Rosie O'Donnell is no stranger to the spotlight. Her fiery and often provocative statements have made headlines and provoked many personalities over the years, including former U.S. President Donald Trump. After appearing in numerous movies and TV shows, O'Donnell got her own syndicated talk show, which ran from 1996 to 2002. Later on, she became one of the moderators of the daytime talk show, The View, from 2006 to 2007. Her recent project was the comedy series SMILF, where she played Tutu.
O'Donnell struggled with losing weight over the years. She said that she tried various diets but to no avail. Eventually, she had bariatric surgery in July of 2013. This radical procedure proved to be the solution for her. Since the surgery, she has lost more than 50 pounds and has felt healthier and better than before. All in all, her risky investment towards her health has been quite a success.
Ruben Studdard
Ruben Studdard gained international prominence after winning the title of American Idol during the second season of the show. He is known for his smooth R&B vocals specifically in the song Superstar. for which he earned a Grammy Award nomination. He launched seven albums in his career so far, including The Return, Soulful, I Need an Angel, Letters from Birmingham, and Love Is. Outside of the music scene, Studdard tried his hand in acting. Some of his film credits include Scooby-Doo 2: Monsters Unleashed, Life on a Stick, One on One, and Lifted. Another TV program that he appeared in was season fifteen of The Biggest Loser.
Studdard addressed his struggles with weight during his stint on the show. After his elimination, he continued his weight loss journey at home. He reportedly lost more than 100 pounds by dieting and exercise.
Seth Rogen
Seth Rogen is one of the most prominent comedians in the 21st century. His witty and equally funny sketches had earned him fans all over. Some of his acting credits were in films such as Bad Boys II, Jay and Seth versus the Apocalypse, Pineapple Express, The Interview, and This Is the End. He collaborated several times with fellow actor and comedian James Franco. Rogen has been stereotyped to play comedic, nerdy, unconventional leading men in films. His fans have grown to love him for being the funny chubby guy. However, Rogen is more than just the typical sidekick.
Upon getting cast for the film The Green Hornet, he took it upon himself to start a healthy lifestyle and lose weight. He reportedly lost 30 pounds within 9 months for the role. His weight loss success can be credited to working out and a proper diet.
Shonda Rhimes
Shonda Rhimes is one of the minds behind the creation of several hit TV series that we all enjoy and love to watch today. Her most successful work is most likely the ongoing medical drama Grey's Anatomy, which is currently in its 17th season. She is also credited for the shows Scandal and Private Practice. She earned producer credits from other series, including How to Get Away with Murder, Off the Map, and Station 19. The mastermind behind these incredible shows is rarely mentioned in articles for her physical attributes. However, after careful consideration of her well-being, Rhimes had decided to take a healthier route in life.
People were surprised to see the results of her weight loss journey. Rhymes reportedly lost 150 pounds thanks to a proper diet and an ample amount of exercise. She admitted to loving the results but not the process.
Snooki
Nicole LaValle, who is more commonly known as Snooki, is one of the most prominent cast members of the reality television show Jersey Shore. Since her stint on the show, she has become a sort of household name in America. She appeared in other television programs such as Dancing with the Stars, The New Celebrity Apprentice, How Far is Tattoo Far?, Celebrity Family Feud, Celebrity Fear Factor, and Jersey Shore: Family Vacation. Outside of the limelight, Snooki poured investments into her personal life. She got engaged to Jionni LaValle in 2012 and welcomed their first child in the same year.
Despite the joy of motherhood, Snooki had one thing to worry about, and that is her sexy figure. Fortunately, the reality star found the perfect way to shed off the pregnancy weight. After giving birth, Snooki reportedly lost 42 pounds thanks to the Cookie Diet.
Star Jones
Star Jones is probably one of the most talented personalities in Hollywood. She is best known as a TV personality and as a co-host of the morning talk show, The View. Other than that, she is also a lawyer, a journalist, an author, and a fashion designer. Her name really does suit her as she is definitely a star. In 1991 she started her career in the industry. In her three decades in the field, she has managed to rack recognitions. With this, it should come as no surprise that she currently has a net worth of $18.5 million. I think we can all agree that money loans are the least of her concerns right now.
At one point, Jones ran through some problems with her health. She reached 307 pounds and needed to shed off the extra pounds. In 2003, she underwent gastric bypass surgery. With this, Jones managed to lose 160 pounds.
Tom Arnold
Thomas Duane Arnold was born on March 6, 1959, in Ottumwa, Iowa. He is much better known as Tom Arnold, and he is best known as an actor and a comedian. He has starred in a lot of films, including Cradle 2 the Grave, The Great Buck Howard, and Madea's Witness Protection.
Just a few years before he reached his 60's, Arnold got his son Jax. The star was currently 287 pounds and was consuming as many as 15 diet sodas a day during that time. The youngster's birth inspired the comedian to get in shape and go on a weight loss journey. His diet, of course, changed. In addition, he engaged in a workout routine as well. His investments have definitely paid off. The comedian managed to shed off a hundred pounds! Now he has more energy to play with his little one. We're happy for you, Arnold!
Tyra Banks
Who could forget about the lovely Tyra Banks? She is best known as a model. Over the years, the star has stepped onto other fields. She can also take credit for being a TV personality, actress, producer, writer, and businesswoman. Banks started her career as a model at the age of 15. She became the first woman of African-American descent to be featured on the cover of GQ. She then became a Victoria's Secret Angel from 1997 to 2005. Being in the best shape she can be has been a major part of her career.
Recently, the star had an injury and was advised that losing weight would help in the healing process. She listened and ultimately lost 30 pounds. The star was asked about her weight loss journey. While she didn't go into specific details, she said that balance is the key.
Wendy Williams
Wendy Williams shared with her talk show viewers her incredible 25-pound weight loss while staying at home. Mind you, the 56-year-old star didn't plan it. It just happened, and everyone now wishes it could miraculously occur to them, too. What was her secret?
Wendy revealed that she just found food "disgusting" for a time. Overindulging might have taken its toll on her that she cut back from overeating and started losing weight. She used to cook anything that she wanted to eat, from processed meats to seafood, until she became tired of it. Wendy just had it with food to some degree. She didn't even think she was shedding off the pounds until she stepped on a scale. Luckily for Wendy, she didn't miss eating the most sumptuous and fattening foods too much and is appreciating her trim waistline now.
Zach Galifianakis
Zach Galifianakis surprised everyone when he stepped out on the red carpet with a much-leaner look. It seemed the 51-year-old star lost about 50 to 60 pounds, though he remained mum about how he did it. The actor, however, finally gave in and revealed he started walking a lot and gave up drinking booze, saying he's done with it.
He revealed he couldn't wake up, so he stopped, and everything fell into its proper place. Zach's proud of himself for having walked away from alcohol. He also says that he's lucky for winning the battle. The Hangover star appreciates his lighter weight and said that can now go up two flights of stairs without using his inhaler. With this change and incredible transformation, Zach had been receiving credit for doing the right thing. He's now clean, fitter, and healthier.
Chrissy Metz
Chrissy Metz has never denied that she has always struggled with her weight. She's born chubby, though she became thinner at different stages of her life. At a young age, the now-40-year-old star had to be very cautious of what she would eat or else she would gain more weight. Chrissy remembered going to Weight Watchers at the tender age of 11, making her the youngest person in the room and making her felt a degree of awkwardness.
She had yo-yo dieted in the past, losing 50 lbs., gaining 100 lbs., and losing 100 lbs. again. Chrissy was following a strict 2,000-calorie diet back then and walked 20 minutes every day. When the actress had a credit role on American Horror Story: Freak Show, she kept her weight in check, fearing she would get stuck in the doorframe when she wore her fat suit. Though Chrissy is yet to achieve the weight that she wants, she believes big bodes are "awesome and sexy."
Honey Boo Boo
Mama June Shannon has surprised everyone with her dramatic weight loss, saying goodbye to 300 pounds of body fat. She now eats healthier and regularly exercises to keep off those extra pounds away. With her success, the TV personality wants her daughter, Honey Boo Boo, to experience the same.
June wants her child to adapt to her healthy lifestyle so that she can lose weight, too. As the kid is only 15 years old and has inherited her heavy build, she's now making minor changes to her diet. The reality TV star now removes grease from her meals, meaning she doesn't eat fried foods anymore. Honey is also avoiding soda, which gives her a positive result. June proudly announced that her child already lost five pounds since she changed the degree of her eating habits. As she didn't want Honey to experience what she went through, June is now making a change as early as now.
Celine Dion
A lot of people show concern about Celine Dion's dramatic weight loss. With the number of negative rumors surrounding her health and body, the music icon finally breaks her silence. The 53-yeard-old singer admits she has lost weight but insists that she's healthy. She even assures her fans everything's fine, and there's nothing wrong with her—no need to use that medical insurance if that's what her supporters are thinking.
It all goes down to her love of ballet, which is why she is shedding off the pounds. Celine explains dancing has been in her DNA, and not so many know that. It's a dream come true for her to do this activity, and she can't deny that it's hard. Rumors have it Celine is suffering from an eating disorder due to her emaciation, but she now clears that it's not true at all.
SUSAN BOYLE
Susan Boyle's life has dramatically changed after joining Britain's Got Talent and singing I Dreamed a Dream from the iconic period musical play Les Misérables. She instantly rose to prominence and became known to many, thanks to her incredible vocals. As the Scottish singer turned to be one of the UK's best-selling artists, she has changed her style, image, and even her body.
Susan decided to start living a healthy life by following a healthy diet and lifestyle. The 60-year-old performer omitted sugar from her diet, though she feels like it will ruin her life. She now only opts for fruit, fruit juices, and vegetables. If the hitmaker has to take sugar, it has to be cane sugar or dark brown sugar, which is less processed and healthier. Susan has made a significant investment in herself and even started to work out to shed off the extra pounds totally.
AMBER RACHDI
Amber Rachdi decided to make a 360-degree change in her life after finding it hard to drive or even bathe. The reality star joined the show My 600-Lb Life and brought everyone on a journey to lose weight. She's about 657 pounds at the time, making her feel "nasty and yucky" of herself, calling her big image a "monster."
Rachdi had obesity at an early age. She used to have an eating disorder when she was a teenager. She enjoyed binge-eating to make her feel comfortable, not knowing it's already deteriorating her health. She started by losing 20 pounds to prepare herself for gastric bypass surgery, and it was a success. From here, Rachdi began changing her lifestyle as a whole, losing a whopping 400 pounds in the process. The dramatic change in her body benefited her health and appearance. She now looks every inch a bombshell after weighing over 600 pounds, which is now a thing of the past.
KEELY SHAYE SMITH
It can't be denied that Keely Shaye Smith gained weight after she started a family with the iconic actor Pierce Brosnan and gave birth to two beautiful kids, Paris and Dylan Brosnan. She used to be slender at the beginning of her relationship with the James Bond star, and although getting heavier was said to be a sign of a happy and healthy relationship, Smith did something about it.
According to reports, the journalist started to change her unhealthy eating habits and led a healthy lifestyle that put off the extra weight. Although Smith doesn't reveal the diet method or exercise regimen she used to lose 100 pounds, everyone can follow many diet and workout routines online. There are also free online classes that can help others to lose weight that is easy to follow. Just like Smith, they only have to have determination and goodwill.
CHRISSY METZ
Chrissy Metz has been open about her weight loss journey and the struggles she has been through to take off the pounds. The 40-year-old star revealed she's born chubby but became thinner at different stages of her life. At an early age, the young Metz was already conscious of what she ate or else she would gain more weight. She already went to Weight Watchers at the age of 11, making her the youngest in the room. Growing up, she would continuously lose and gain weight but eventually managed to maintain a 100-pound-less body after eating a 2,000 calorie diet and walking for 20 minutes a day.
Metz started to also change her attitude regarding dieting that helped her eventually lose pounds. Even with the degree of hard work she had put on to slim down, the This Is Us star is a body-positive advocate.
You've Reached The End